Ariane Heloise Hughes
Betsey Kilpatrick 
Catherine Lette
Hyeyeon Im
Jennifer Cuthill
Loren Erdrich
Miya Browne
Pippa El-Kadhi Brown
Rebecca Sammon
Sasha Ferré 
curated by Natasha arselan
Sasha Ferré (b.1985, France) is a contemporary visual artist whose practice investigates the deeply entangled nature of the living world. Her studio is an eco-system, an earthly biome, with paintings as organisms, growing like lichen, feeding and contaminating one another. Sasha's paintings are biofilms, living membranes, open systems, critical zones, telluric murmuration. She is interested in how painting, as an embodied practice, can participate in a new perspective on the living world. Especially, how the notion of land-scape can be reinvented, by considering the environment not as a fixed reality outside of us, but as a site of active participation, as a complex relational system and highly material network. Sasha lives and works in Paris, France.
Hyeyeon Im (b.1993, South Korea) is a contemporary visual artist whose artwork portrays a palette of different textures – something that she is captivated by the experimental aspect of. The way that the same paint is able to form a variety of textures, colours and layers based on the gesture of strokes is something she finds fascinating and she hence uses this to convey emotions, feelings and memories, particularly of her personal experiences. Hyeyeon lives and works in Seoul, South Korea.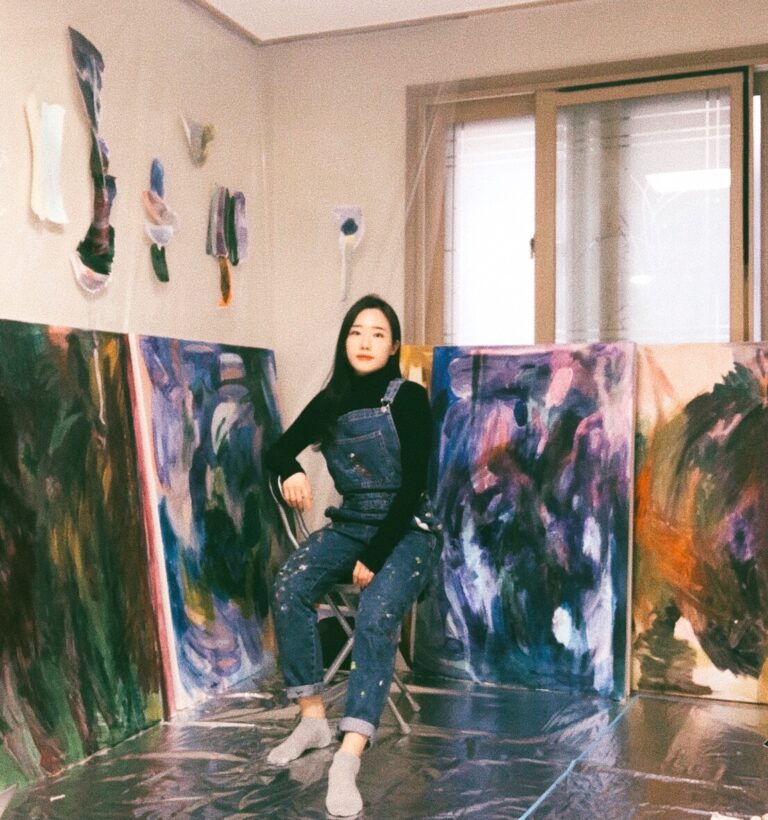 Ariane Heloise Hughes (b.1997, British/Austalian) navigates through her practice the tenuous threshold of the subject/object dichotomy. Through her blending of contemporary and traditional imagery, amalgamation of figuration and setting, she challenges this rigid paradigm. Throughout Ariane's practice, the female nude is a recurring subject as it personifies the subject/object dualism within the Western Canon of Art. Through investigating this traditional trope and by playing on both sides of the threshold between the mundane and the surreal, Ariane hopes to conceive of a new visual vernacular for desire. One that operates outside the norms of conventional beauty and 'the gaze'.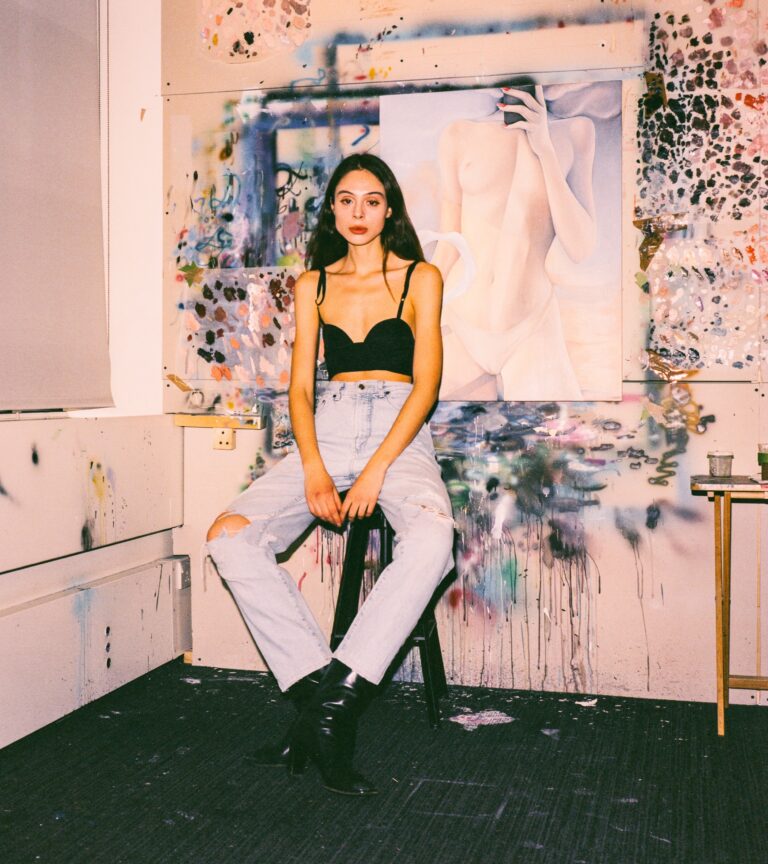 Miya Browne (b.1997, UK) is a contemporary visual artist whose practice is cocksure and confident, provoking the canvas and viewer as they play with ideas in paint that gravitate between nothingness and intense representation. Rejecting both colour and femininity, they purposefully restrict their work to an achromatic palette. Embodying ideas of masculinity and race and man-spreading their "female" form, they take on the archetype of an "artist". Miya's painting and performances are a conversation with the viewer as well as a conversation with the self. Miya lives and works in London, UK.
Loren Erdrich (b.1978, USA) leans towards moments which dissolve the separation between outside and inside, me and you, this world and other-worldly. Figures are as apt to meld with their environment as they are with another human. Each piece resides at the merging point of interiority and intersubjectivity, of desire solicited and desire articulated, existence and extinction. Loren lives and works in NY, USA.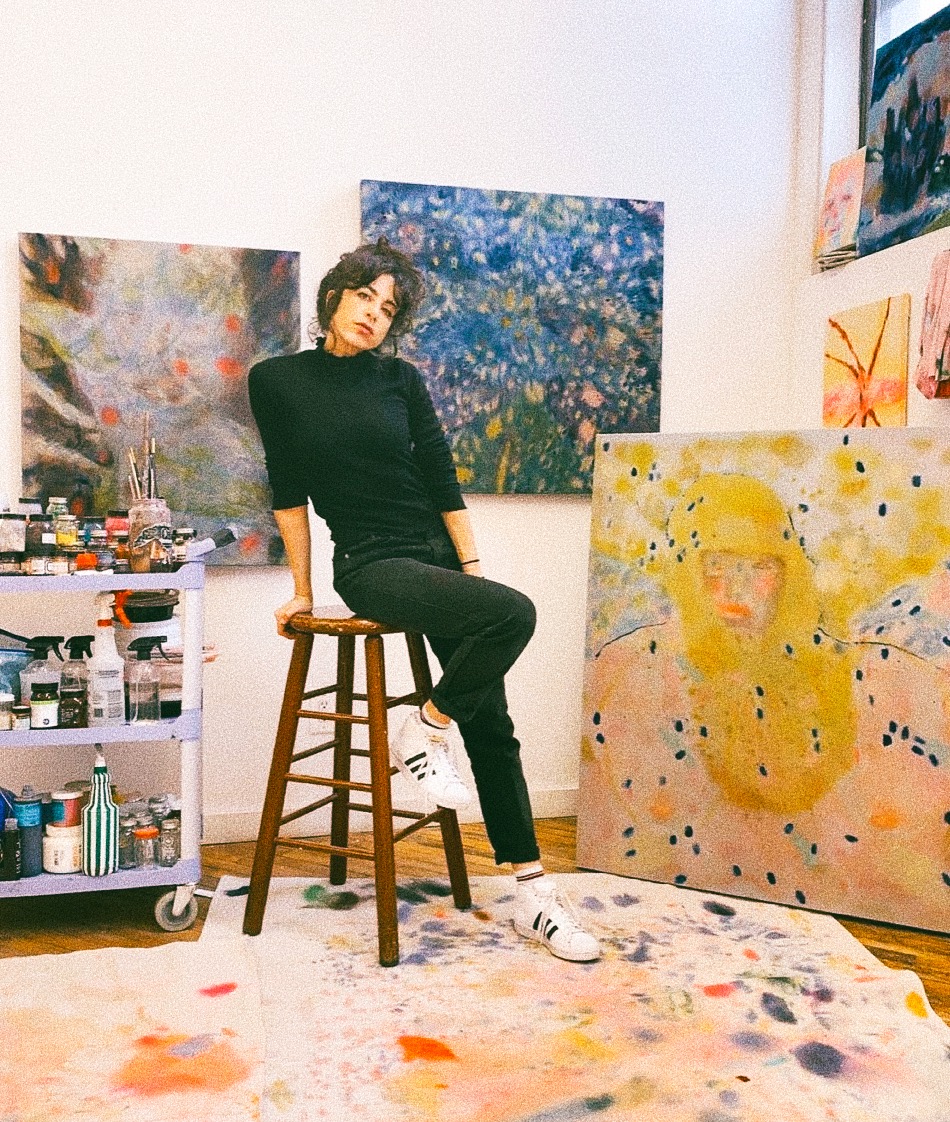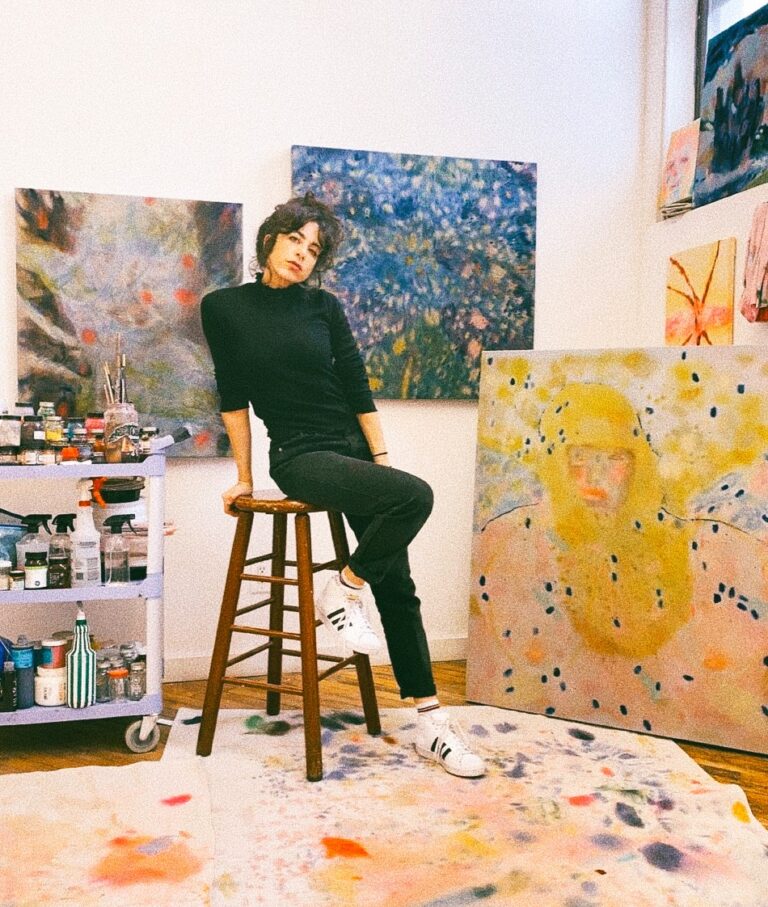 Rebecca Sammon (b.1984, British) is a contemporary visual artist whose bold, poetic pieces pulse with vibrant immediacy. Often Rebecca's pieces are inspired by abstracted elements of nature at play with human forms within imagined landscapes, moving from suggestions of mythical narrative into the more ambiguous, fluid space of uncertainty. The balance of delicate figures move weightlessly through the work and the often bold colour combinations transport the figures from reality to a dream state world. Rebecca lives and works in London, UK.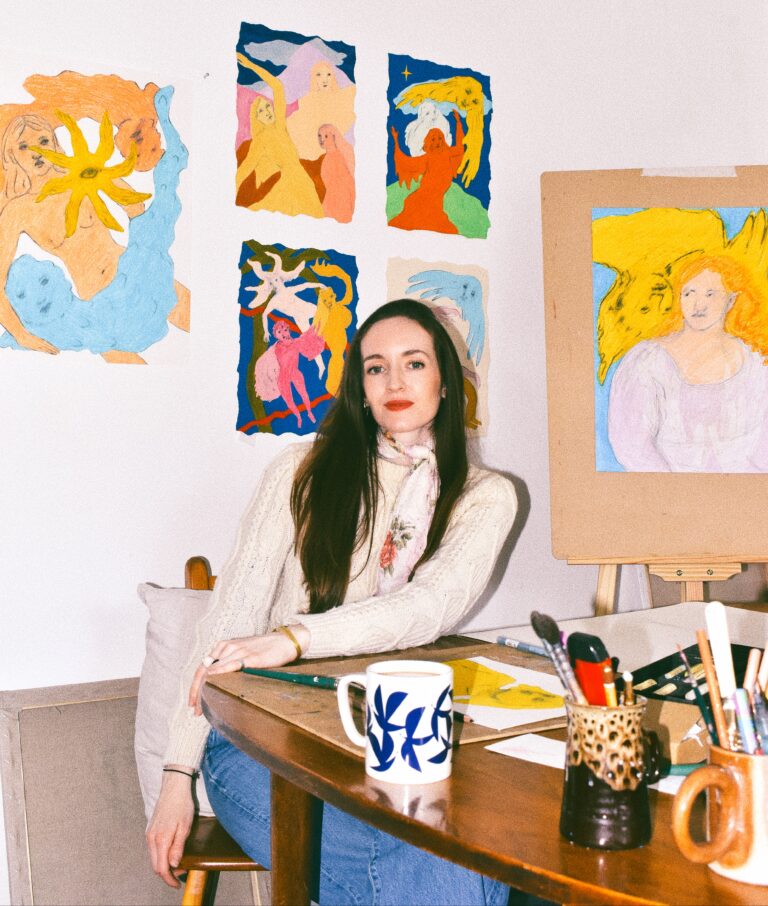 Jennifer Cuthill (b.1995, British) is a multidisciplinary artist who works with painting, printmaking, animation and clay. Blending dreamlike imagery with imagined cave ecologies she explores the relationship between geology and the subconscious, as well as the dance between fiction and reality. She takes inspiration from the entanglement of these hidden worlds with narratives and stories and attempts to make these ethereal landscapes physical, transforming and fusing these surreal inner worlds into outer ones. Her recent work is interested in the connection between scent and memory and the emotional and sensory responses this can produce. Jennifer currently lives and works in Edinburgh, Scotland.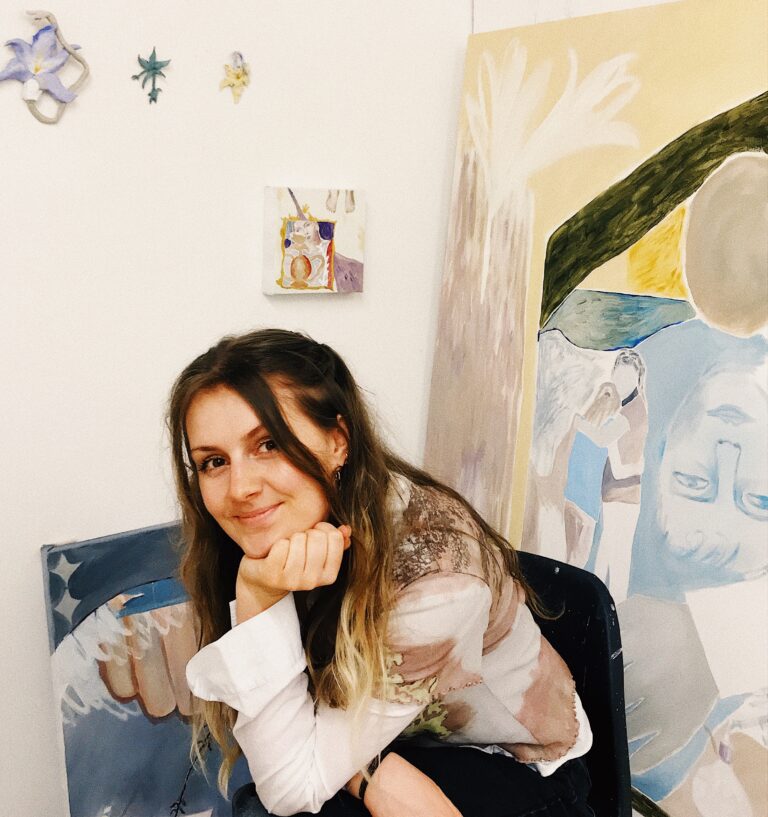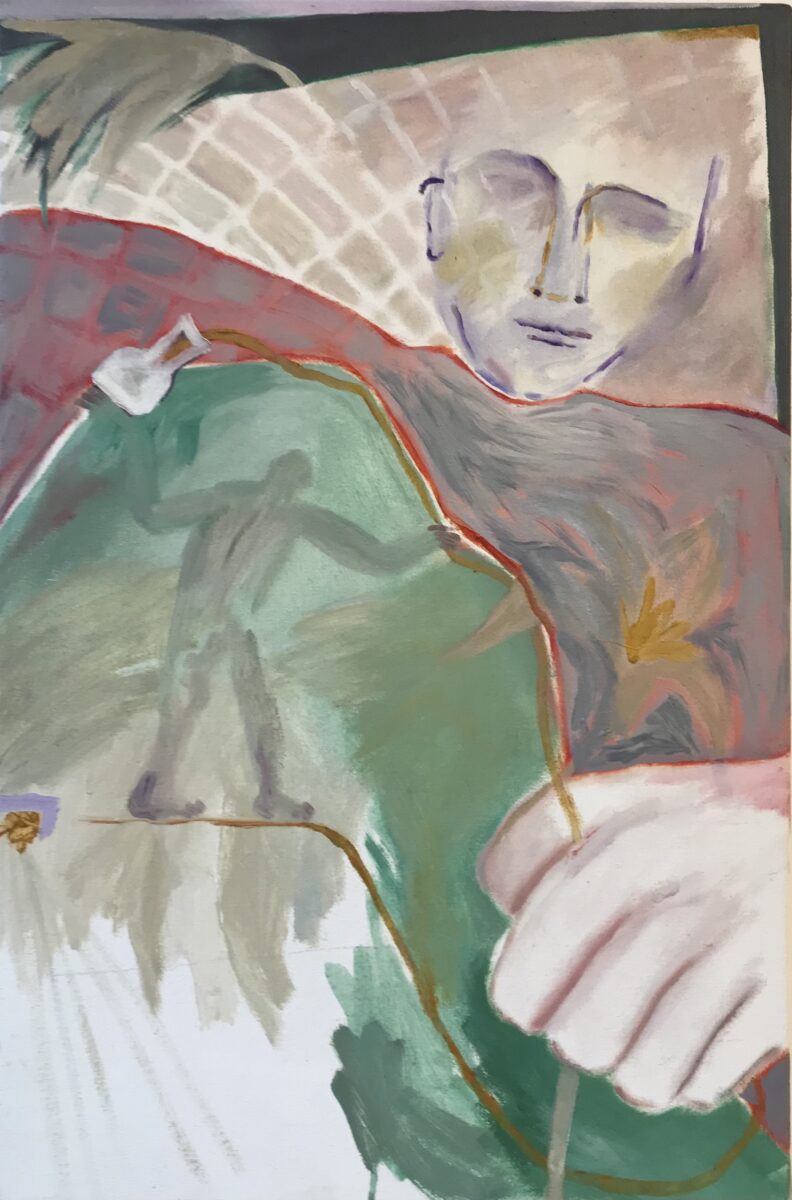 The Tightrope Walker, 2020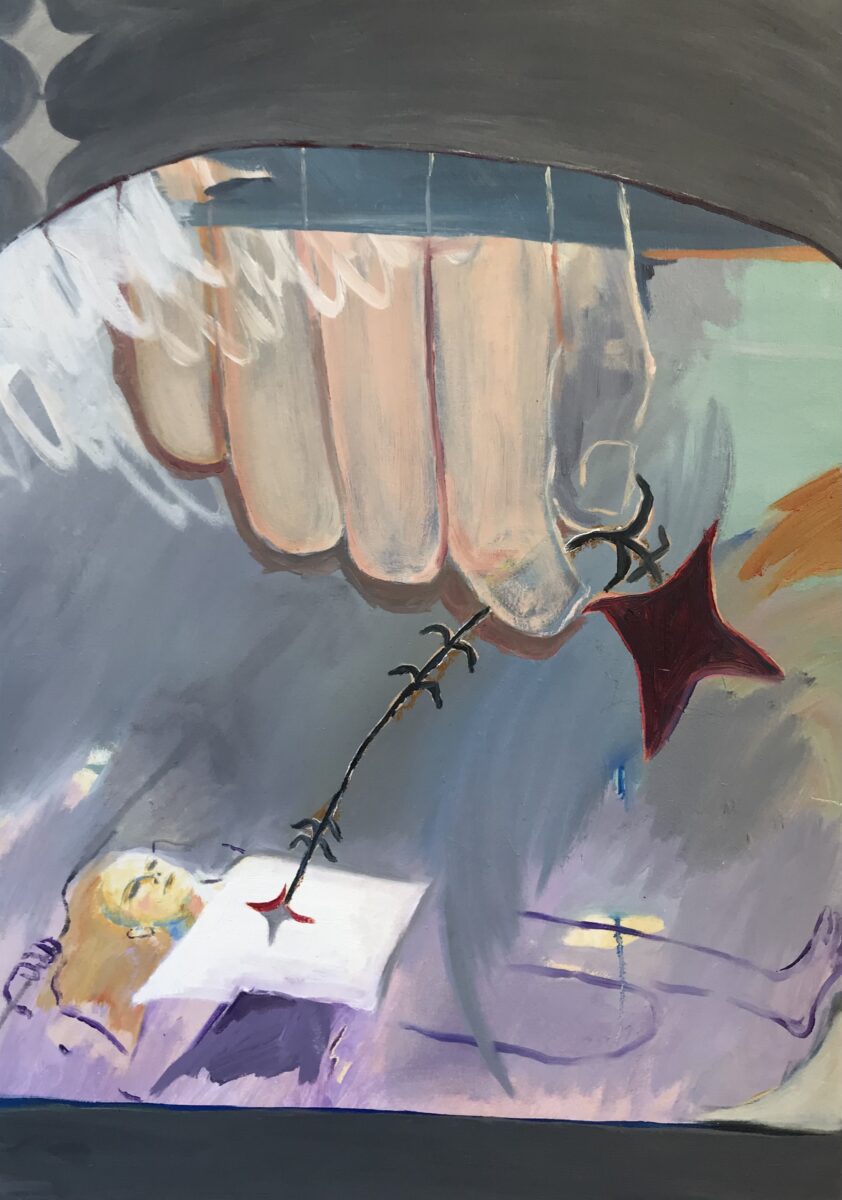 Just Below the Surface, 2020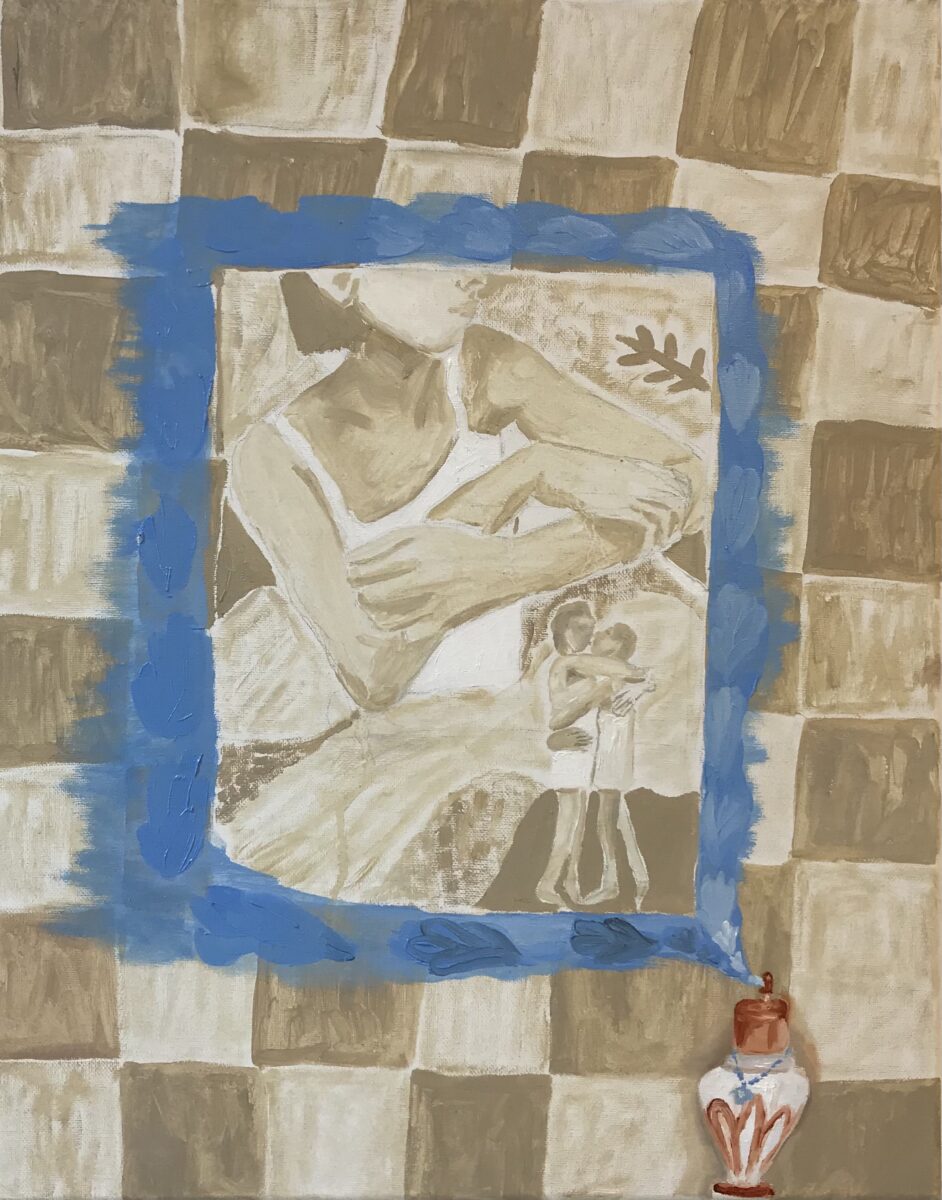 Perfume Bottle Memory I, 2021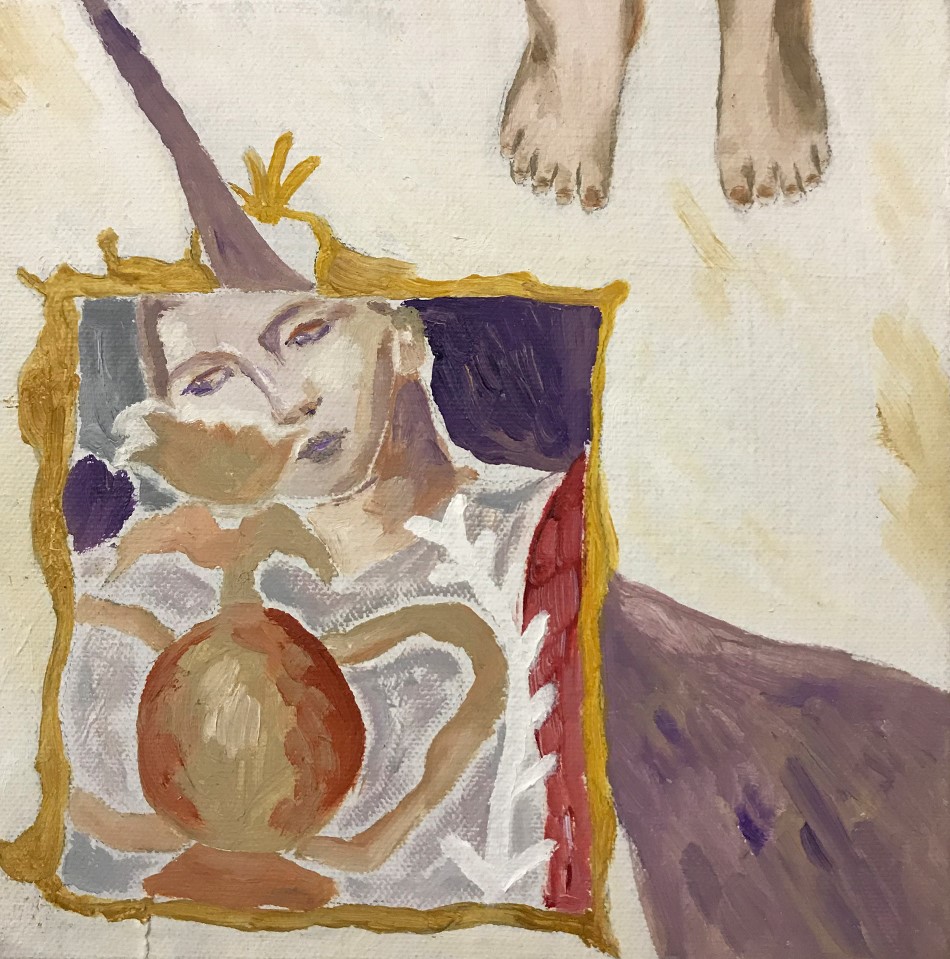 The Sand Between Your Toes, 2020
Betsey Kilpatrick (b.1990, UK) is a contemporary artist whose paintings emerge, changing continuously, a collection of unconscious drives. The questions her work raise concern completion and non-completion, a borderline between form and abstraction, floating between realms, offering space to contemplate the 'not- there' possibilities of painting. They evoke a familiar sense of connection with nature, similar to water or organic forms revealing a moment caught in the mist of its own becoming. Her work takes inspiration from a mixture of Eastern Asian art as well as experimental music. Betsey lives nad works in London, UK.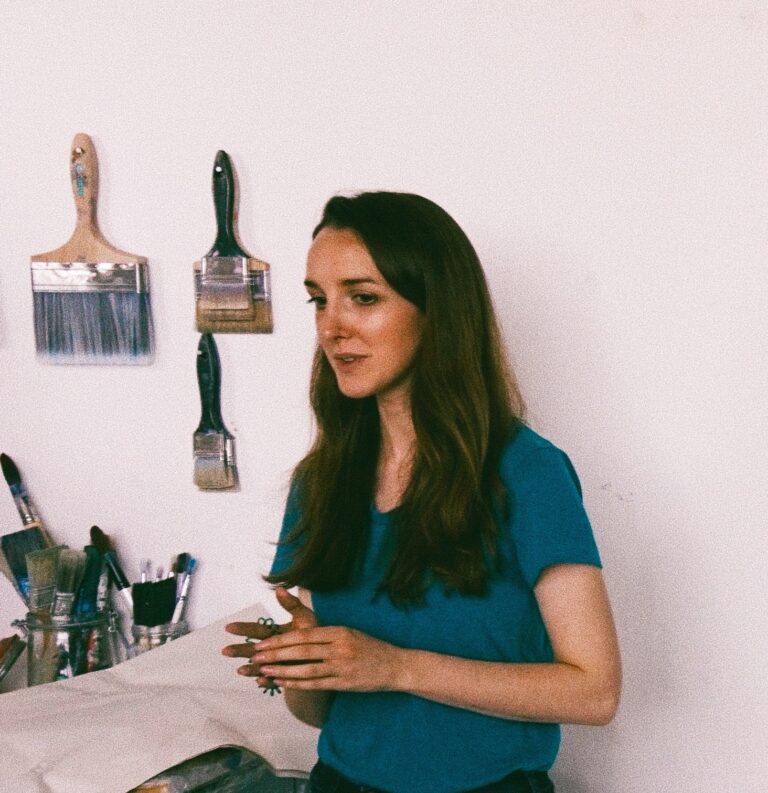 Pippa El-Kadhi Brown (b.1996, UK) is a London based artist whose practice explores the enigmatic dialogue between space, consciousness and the human psyche. Using a combination of memory, imagination and the everyday, she disembowels the anatomy of the domestic environment, gutting from the inside out. Pippa's playfully constructed interiors offer a tangible insight into us as human-beings and/or wild creatures. Exploring the theatrical essence of human existence, Pippa blurs the line between the physical and the conscious, as the two merge and separate in tandem. Pippa is currently living and working in London, UK.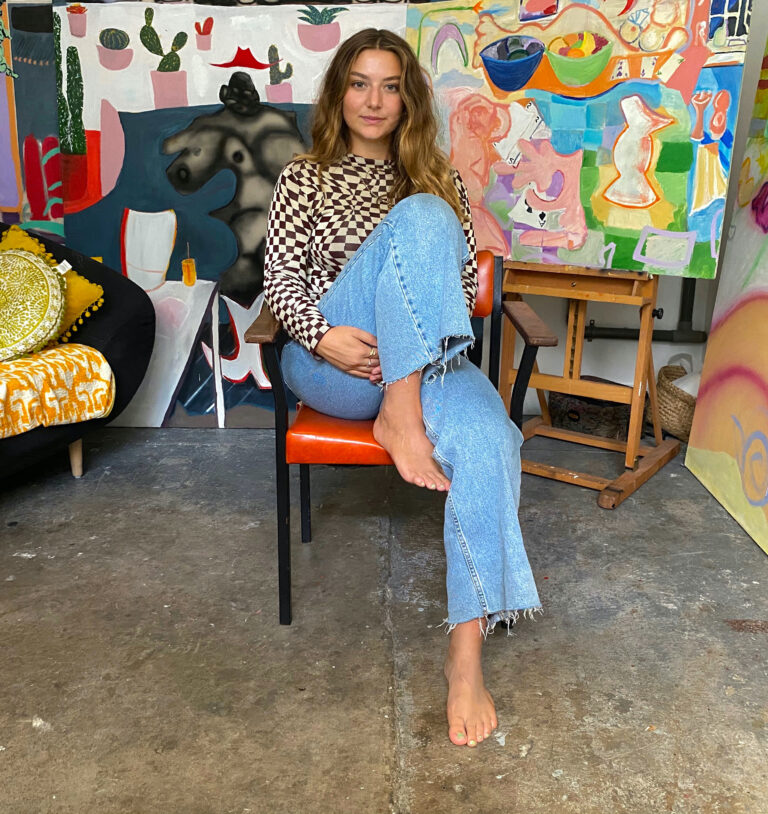 Catherine Lette (b.1979, British) is a contemporary visual artist whose work is concerned primarily with the figure and questioning the impact of contemporary life upon body and mind. Inspired by current events and people surrounding her, she draws and paints from life alongside memory, to explore embodiment and disembodiment in the real and virtual spaces that we live in today. Her artistic influences are wide-ranging, she is a self-confessed magpie with a love of painting ranging from Tintoretto to Schutz and Quarles with an endless list in between. Catherline lives and works in London, UK.