ART | interior design | AN ARTISTS ROLE IN A HOME
This week, we spoke with one of Architectural Digest's 2023 New American Voices designer Melanie Raines who reveals her personal design philosophy, her best kept secret in design — and her favourite artwork picks on AucArt.
This week, we spoke with one of Architectural Digest's 2023 New American Voices designer Melanie Raines who reveals her personal design philosophy, her best kept secret in design — and her favourite artwork picks on AucArt.
Can you briefly describe your own personal design philosophy?
The joy in my work, these days, has to do with beginning with a quality, a feeling, instead of an idea of a style or look. This is partially a reaction to the first decade of my career in the heyday of boutique hotels, where I was actually in the business of selling an aesthetic. Beginning with a quality widens the aperture of design, to holistically encompass the standards of color, texture, material, and form alongside those hard-to-see elements such as scent, humidity, acoustics, and energetic qualities. Together, these weave together to form an atmosphere– something much more interesting and lasting than the look of a space. With each project, I try to deepen this practice and grow my understanding of this notion, which keeps my work artistically and intellectually challenging. 
What's your thought process like when you're incorporating art into a space?
I'm incredibly irreverent when bringing art into a space; It's a different mode for me, as I'm particularly type-A about the rest. I actually love to leave it for last and, unless the scale is specific to a space, I move things around during the final install. I leave room for this improvisation, and usually surprise myself with where pieces land. Many of my clients have incredible personal collections, so any art I source is an extension of the design, rather than part of a rigid collection or investment portfolio. This allows us to work with more new and emerging artists, finding a piece that's additive, and often contradictory, to the design in form, texture, and personality. I dislike when the art 'matches' or is too fixed in the space; a collection should grow, move, and evolve– art wants to be dynamic. 
How do you get an idea or feel for your client's tastes and needs when choosing the artwork, furnishings, and accessories for a home?
It has become an important part of the process to spend more time at the beginning of the design really stepping into a client's world. There's an old saying that a great architect or designer doesn't give a client what they asked for, but rather what they wanted. It's my job to be the conduit to the tangible expression of themselves, while still putting their lifestyle and aspirations top-of-mind. I do this by implementing a series of interviews and workshops that immerse them in the process, I don't let it be a spectator sport! By getting better inputs, you're guaranteed better, more aligned, outputs. Since I've implemented a deeper process of excavating the essence of a client or family, specifying the right pieces falls into place quite easily. There's a clarity now; and the right option always rises to the top.
Do you collect art or any kind of objects yourself?
I have enjoyed beginning a collection. When I landed my first design client, the first thing I did was commission a painting by Tom Jean Webb, it was the whole wall of my living room! Now, my preference for oversized pieces gets me in trouble: I only have so many walls. I currently live with original work by Evan Whale, Michael Taylor, Martha Tuttle, Kesewa Aboah, Derrick Velasquez, The Heides, Agnes Martin, and Rachel Wolfson Smith. One of my favorites is two photographs in my entryway by Luis Barragan, my partner and I were married at his Casa Pedregal last year.
If you consider purchasing a piece, what kind of things do you look for? How would you describe the kind of art that excites you?
I'm drawn to haptic pieces and works created by unique processes. For me, it's very rarely a quaint painting in a frame or behind glass, as I feel you interact more with art that transverses the framework. Just like when placing art, I want clients to live among it and not 'look at' it. When we can really engage with a piece, it has the power to transform us. Day after day. 
Your best kept secret in design (that you'd be willing to share) 
Re-upholster! Everything, all the time. For clients, the majority of pieces are COM or re-upholstered before installation, ensuring functionality and a design that won't be seen anywhere else. For myself and my friends, I often purchase a catalog piece at a more affordable price point and have it upholstered in whimsical silks, jacquards, and mohairs to make a room feel eclectic, collected over time.
Artwork Picks from Melanie
Light Orange Marine Blue, 2022
Silk and viscose on oak frame
Colored pencil and acrylic on paper
Double Patterned Sphere II, 2021
Nerikomi Sphere, stoneware
Artwork Picks from Melanie
Colored pencil and acrylic on painted paper
Double Patterned Sphere II, 2021
Nerikomi Sphere on a wheel thrown base, porcelain and stoneware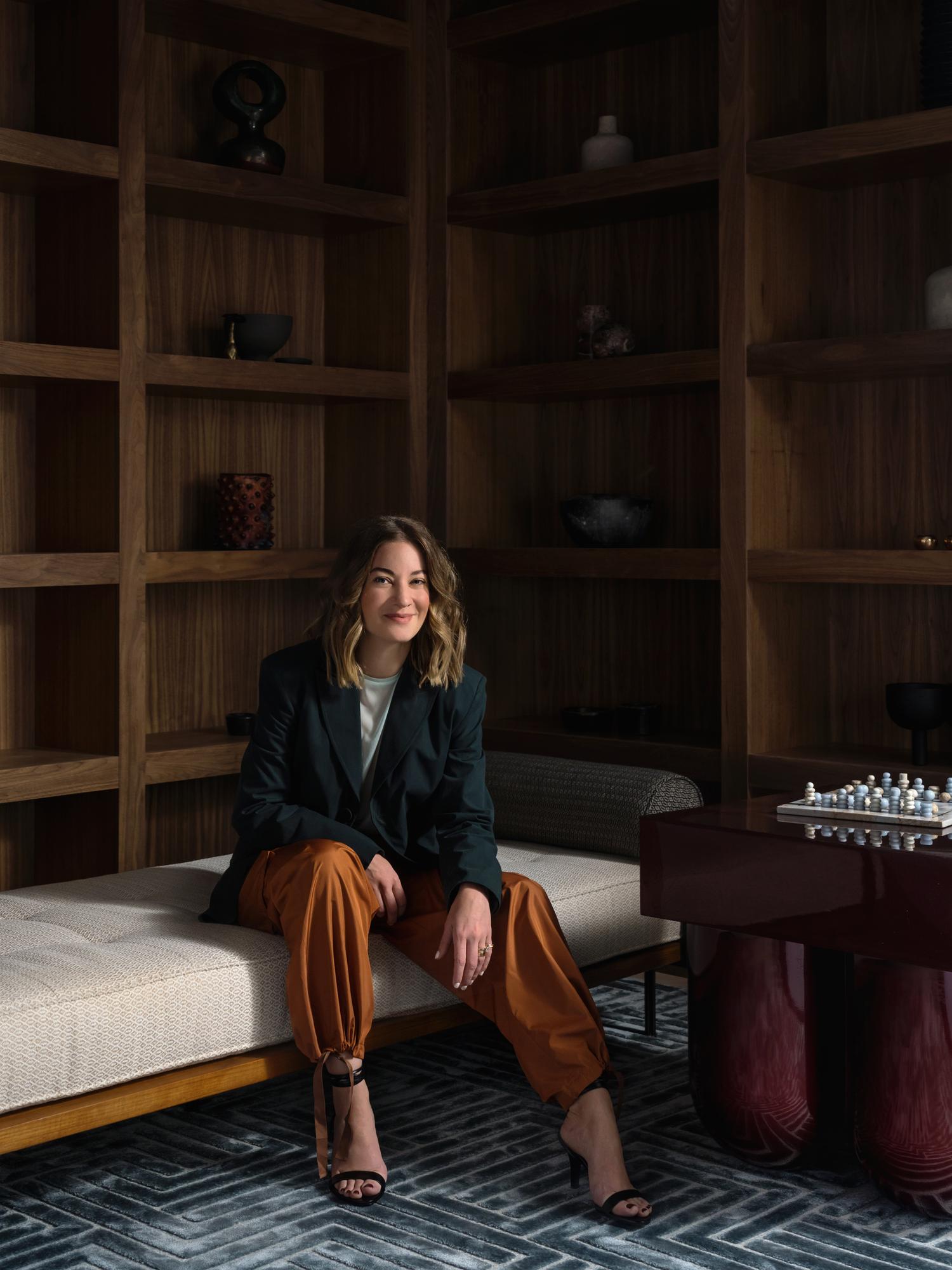 Melanie Raines harnesses the power of space to intimately and measurably affect daily life. She has earned a reputation for fearless and spirited design, honed by the world of boutique hotels and restaurants and refiner by over a decade of experience as an architect across Copenhagen, New York, Los Angeles, and Austin. Never adhering to an aesthetic, but instead calculating the synthesis of human senses, her work is at once polished, rebellious, and often described as "un-design". Melanie's integrated approach delivers experience-forward spaces that calibrate, embrace, and celebrate the lives that inhabit them.
Before starting her eponymous practice in 2018, Melanie fostered a foundation in intimate residential work under David Mann at Mr. Architecture & Decor NYC and worked in hospitality design with Soho House & Co NYC and LA, Bunkhouse Group Austin, and New Waterloo Austin.