Matthias Esch designs subjective systems that convey a metaphysical feeling rather than a message. We met German artist Matthias to tell us more about his practice and artistic journey to where he is now.
Firstly, When did you first begin to see yourself as an artist?
Probably only after I started studying fine art in Kassel/Germany…
Where are you from and what was your upbringing like? How has this impacted your work?
I grew up in a very loving household in a rural area in Germany, called Eifel. I would describe it as a working class environment; we rarely had the chance to visit cultural Museums (not that there were any), classical concerts or anything like that. But in every one of the villages there were one or two like-minded kids and we got together through punk rock and the overall rejection of the status quo.
In the end I left school early on (nobody told me about 'studying') and worked in a wine factory for three years. Right after finishing the vocational training, I ran away to Berlin. Through a friend I became more aware of contemporary art, and after I visited him at his art school, I decided to try that as well. Little did I know then how much that moment would change everything.
But yeah, my upbringing influenced me massively; especially the inaccessibility of art. As a result, I don't take art for granted and I am still angry somewhere inside.
Paint us a picture of your artistic journey. Have you gone through the traditional route of art school and what was your experience? 
The friend I mentioned above is Thilo Jenssen, who studied at the sculpture department in Kassel. All the other application deadlines had passed already, so I applied there and got accepted; even without the proper school degree. It was a great university to start at, but after some time I changed to the Kunsthochschule Weißensee in Berlin. During my studies, I spent a semester in Antwerp, before graduating in Berlin. A second Master's degree at the Glasgow School of Art followed thereafter.
It was great to attend and experience different universities, learning about the many similarities between students (we are not that unique, unfortunately), but also to begin to understand some of the major differences in academies and teachings.
It was only in Glasgow that I realized the severe impact a student's class / background can have. In Kassel I could enter with a 'minor' school degree and the program was basically free. But at GSA I realised how high university fees in the UK are and how that dictates who can and cannot study art. This was quite an eye-opening experience for me. I had a good scholarship, otherwise I could not have afforded it. This is a significant point, especially in regards to people who find themselves at the intersections of additional forms of systemic oppression, such as people of color, women, immigrants and so on. Even more so because the fees at the GSA are even higher for non-European Union citizens. All this made me more conscious considering the art world in general; the lack of representation of minorities and artists with working class backgrounds and how much inequality there actually is.
What's the message of your work? Are there themes/narratives/purpose? 
I do mistrust direct 'messages' in art, since the viewer will always bring their own perspective; their knowledge, mood, way of approaching, and so on . . . but from a subjective point of view, my work is rooted in a mistrust of language and other communication methods that we rely so heavily on, as well as a feeling of frustration and depression that lies within me. A feeling that life is like a game that we were thrown into, bouncing back and forth whilst unable to escape the system and the structures that surround us. Examples might include our families, the economic system, or the failure found when attempting to love without constraint.
Concept wise, I am interested in semantics: contextualisation of words and how that shapes our perception of images. The visual turn, or how meaning is generated. This combination of emotions and theory, subjectivity and objectivity, interests me a great deal. I am an artist, yes, but like everyone I am mainly a person. What satisfies me is to express my notion of despair in the concept of surrounding systems; to turn that expression into solid paintings.
Oil and mother of pearl pigment on linen
30 x 20 cm
Where do they come from? How would you describe your aesthetic? 
I used to paint figuratively for many years, using newspapers, magazines and images I collected on the internet. Since becoming more abstract, I'm using diagrams, symbols, and patterns from my everyday surroundings as sources of inspiration. In the current two series, I am using archaic patterns (that must have been around for ages) and an architectural Medieval Italian inlay style called "Cosmatesque" (named after the Roman Cosmati architect family) as a starting point.
Not sure how to describe my aesthetic, maybe something emphasising emotional abstraction? 'Signifying emotional abstraction' or 'geometric abstraction' would be too simplified I guess, although from a formal point of view and/ or an outside perspective, that might actually be correct. But I feel I am missing the human touch in that description.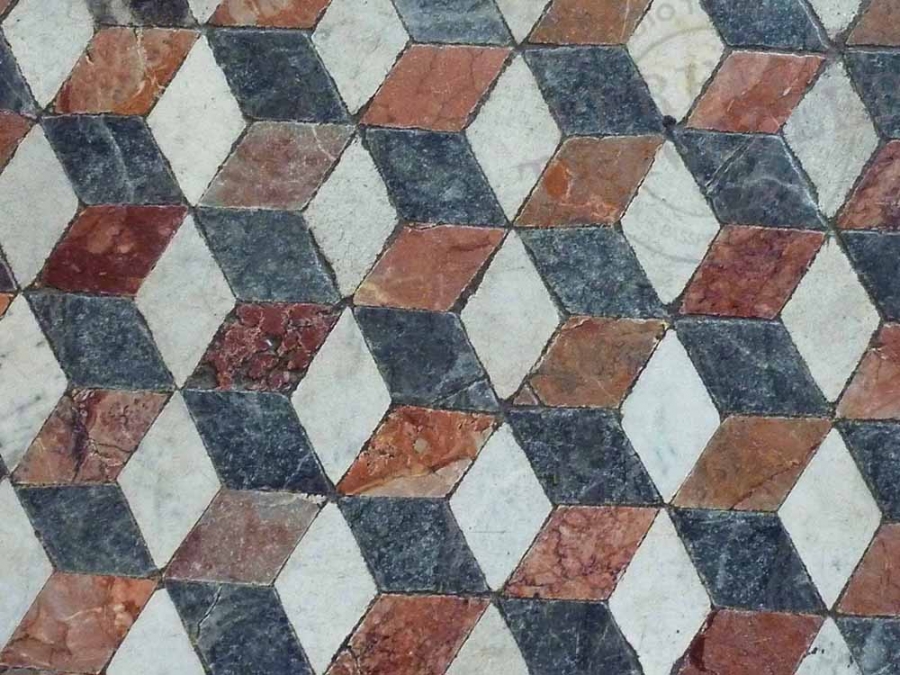 Cosmatesque Inlay - Inspired by The Medieval masters of floor inlay design
Who and what are your greatest influences? 
For a long time I have been interested in the writings and theories of William S. Burroughs, his famous quote "the word is now a virus" from his 1962 novel, The Ticket That Exploded and his ideas about cutting up and re-shaping reality. Another influence is Austrian-British philosopher Ludwig Wittgenstein and his theories, as far as I understand them. In fine art I admire many different artists, but I try to keep their work at bay and not get too influenced by their aesthetics.
Names I would mention, however, are Thomas Zipp, Paul Klee, Gardar Eide Einarsson, Agnes Martin, Marco Fusinato and Bruce Nauman. Ross Bleckner had a big influence and was not afraid of beauty or emotions and his way of using abstract and figurative imagery. Visually some of his works are just beautiful, while others might be a bit kitschy haha, but as artists we should risk failure.
Are your works planned? What do you want people to take from your work when they view it? Do you have the audience consciously in mind when you are creating?
Yeah well, funnily enough, I am not really good at planning. So whilst painting I have to constantly react to the work and irregularities, even though it might seem like I gave myself a very tight frame in which to operate. I also stopped seeing each canvas as an individual painting and more like a piece of a bigger puzzle (this is perhaps more obvious with the small scale works). Simultaneously, they need a lot of time to develop, so there is a constant overlap of structure and planning, mistakes and re-visions.
I don't really think about the audience while painting, however, currently I am working on my first monograph in which I'd like to shed light on my sources, influences, and the personal background of the work – a little bit like a diary, to give the audience another tool, another point of access, to the paintings. But in the end it is crucial to see my work face-to-face. There are different layers best experienced up-close; some of the pigments change depending on the light and different paintings can complement each other. Currently I would like to work on a larger scale so that the work can overwhelm the viewer, really enclose him or her. A function opposed to the small scale works that are way more intimate and contemplative.
What events in your life have mobilised change in your practise/aesthetic? How has your art evolved? Do you stick to one medium? Do you experiment? Do you see any parameters to your work? 
At some point I found myself looking at a diagram about autism, realising how little I actually knew about it. I was entirely depending on the text to explain the diagram to me. Still, even with all the words, I knew I could never really understand what it must feel like to be autistic. There is so much discrepancy in our lives; we try and try, we are empathetic, we think, analyse, understand, but there will always be distance, some sort of disconnect. Not that I'm looking for easy answers, but that particular diagram had a profound impact on my practice. I stopped painting figures; the direct narrative was too strong and somehow it was not the right expression for me anymore. First I painted symbols for things we can not grasp, like death, for example, and it so it went from there.
Most of the time I paint, but once in a while I produce a video. It adds something to my paintings, since usually those videos are very noisy, almost violent. I used to make music as well, of the experimental sort. Hopefully I can return to that at some point again: noise music is fantastic.
What are your ideal conditions or catalyst for creating a "good" piece of work?
I just need space and time to work. Sometimes even small places are sufficient, for watercolour paintings for example. When it comes to quality, different works have different purposes so there is no easy answer as to whether a work is good or not. In the end, if they don't work visually or conceptually, or just feel wrong, there is a high chance that I will destroy them. A work has to imply the possibility of an impact; if that is not given, it's a failure.
What are your goals for the future? (Projects, collaborations)
I just finished some large-scale paintings and got them photographed in order to update my website. I am also working on my first silkscreen edition, which will probably be available in July of this year. After that I can hopefully leave Berlin for a while, maybe spend the Summer or Winter in Italy and calm down a bit. Right now a lot depends on the pandemic, of course. Also there is still this book I want to publish – it still needs a lot of work.
For me this year is somewhat canceled. I finished a lot of things already and will continue to work, but hopefully at a slower pace. I am in contact with some galleries and hope to start working on a schedule for 2021. At some point at the end of the year I want to concentrate on that. But right now there is a lot of personal stuff going on. I have to take care of my health, there are demonstrations against systemic racism, the pandemic and our climate crisis . . . At this point my personal goals/ plans don't feel that relevant, to be honest. As long as I am here, I am here.
How has your art practice been affected by self-isolation?
In the beginning I definitely needed some time for myself, to figure out what was going on and how to cope with the pandemic. Can't say I handled it very well, to be precise, but I was lucky that the lockdown and the restrictions were not very drastic in Berlin and that I could still cycle to my studio and continue to work (though I was unsure if I should or not). Now it's time to take a break because I'm feeling a bit tired. The machine is overheated (not just mine), and as mentioned, I wanna go somewhere else to rest and to rethink everything. Maybe I'll do some nice little works on paper, look at old buildings and just eat well.
Are you creating new work while social distancing?
I never really stopped working. It felt as if there was even more to do than before the pandemic. As an artist, social distancing in the studio is not very difficult. I actually had some studio visits recently because that is still possible without coming too close to each other. But who knows what will happen next . . . In the end, I've just been glad to see the majority of people determined to support their loved ones, even across distances and borders, all while practising social distancing in  solidarity with one another and especially with workers in our healthcare system. Creating new work is easy, I think, compared to that.
How are you staying creative?
'Creative' is an odd word because I think everyone is creative, constantly. The difference is that as an artist you probably channel that a bit more, and that you are used to turning creativity into objects . . . So I just continue to do my little things. But now I am honestly looking forward to not doing anything for a few days I guess, haha. Enough of that 'being creative'! I will probably constrain myself to being creative in my head and go and help my mum in the garden instead.